Quantified Assessment of Muscle Health
Myolex Inc. develops muscle assessment devices. Its validated investigational devices are available for clinical trials applications. This website is intended for clinical researchers and medical professionals for the purpose of evaluating Electrical Impedance Myography (EIM) for use in neuromuscular disease clinical trials.
Learn More
Electrical Impedance Myography
Myolex devices employ a patented technology, Electrical Impedance Myography (EIM), which is a non-invasive, validated, investigative tool to measure a variety of muscle features, including resistive and capacitive properties, during IRB-approved clinical studies of therapeutic treatments for neuromuscular conditions. These features provide a unique set of data from which to confirm and further evaluate the tissue's health status. EIM is one of the "new non-invasive biomarkers" that the FDA has encouraged for use in drug development programs "in addition to established methods".1 Our investigational devices are flexible in their application, and can be studied in a wide variety of muscles.
1See FDA's Draft Guidance for Industry: Duchenne Muscular Dystrophy – Developing Drugs for Treatment over the Spectrum of Disease (June 2015), p. 44, available at FDA Draft Guidance DMD Drug Development.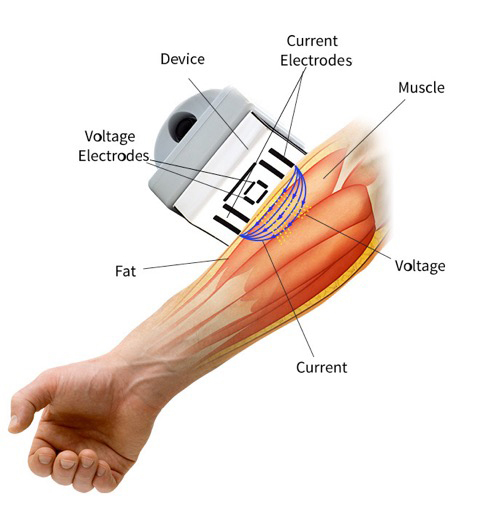 Myolex set out to
develop a versatile technology that could be
evaluated in a wide variety of diseases and disorders
across many neuromuscular applications.
A team with strong industry backgrounds and experience is committed to developing reliable and quality products to improve the well-being of all.